PORFIRIJE OF ZAGREB AND LJUBLJANA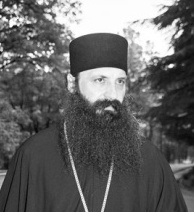 The Orthodox Theology of the Monastic Vocation
Metropolitan Dr. Porfirije (Perić) of Zagreb-Ljubljana was born on 22 July 1961 in Becej, northern Serbia. He was ordained a monk according to the rite of small schime by his spiritual father, then hieromonk Dr. Irinej (Bulovic), at Decani Monastery in 1985. In 1999 he was elected as Bishop of Jegar, Vicar of the Bishop of Backa, and in 2014 metropolitan of Zagreb-Ljubljana.
He graduated from the Faculty of Orthodox Theology in Belgrade in 1986 and attended postgraduate studies in Athens from 1986 until 1990. That year, upon the blessing of Bishop Dr. Irinej of Backa, he joined the monastery of Holy Archangels in Kovilj, near Novi Sad, where he was ordained as hieromonk and became its abbot. Many young monks and novices came to the monastery following him. These were the years when the Kovilj Monastery became a spiritual center for many young people: intellectuals, artists, popular actors and rock musicians, especially from Novi Sad and Belgrade. Since then abbot Porfirije has particularly dealt with drug-addicted patients. For this purpose he formed (in 2005) a therapeutic community called "The Land of the Living".
He defended his PhD thesis at the Faculty of Theology of the University of Athens in 2004. He became a lecturer at the Faculty of Orthodox Theology - Department of Pastoral Psychology in Belgrade. The Assembly of the Republic elected him as representative of all Churches and religious communities, to be a member of the Council of the Republic Broadcasting Agency, and in 2008 the RBA elected him its president.