Panteleimon Manoussakis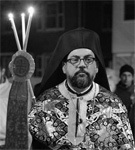 John Panteleimon Manoussakis was born in Athens, Greece, and educated in the United States (Ph.D.,Boston College). He was ordained into the diaconate in 1995 and into the priesthood in 2011, receiving the distinction of an archimandrite. He is a Honorary Fellow of the Faculty of Theology and Philosophy at the Australian Catholic University and he is the recipient of a Templeton Foundation grant. His research interests are in Philosophy of Religion, in Phenomenology (in particular Heidegger and Marion), in Ancient Greek Philosophy (especially Plato and the Neo-Platonic Tradition), in Patristics, and in Psychoanalysis. He is currently associate professor of Philosophy in the College of the Holy Cross (Worcester, Massachusetts), and the author of three books: God After Metaphysics: A Theological Aesthetic (Indiana University Press, 2007), Theos Philosophoumenos (Ellinika Grammata, 2004) and For the Unity of All: Contributions to the Theological Dialogue Between East and West (Eugene, OR: Cascade Books, 2015, to be published soon - september 2016 - in Italian by the Edizioni Qiqajon – Comunità di Bose). He also edited collective volumes and numerous articles in English, Greek, Russian, Serbian, and Ukrainian.
---
The Spirit as Source and Support of the One Christian Witness
"The Spirit as Source and Support of the One Christian Witness" explores the role of the Holy Spirit in bringing about and in sustaining the one witness to Gospel by all Christians. Emphasis will be placed on the understanding ofmartyriaasconfession/ ὁμολογία (with particular hermeneutical reading to such scriptural passages as Matthew 10:20 and 1 Corinthians 12:3).