BOUTENEFF PETER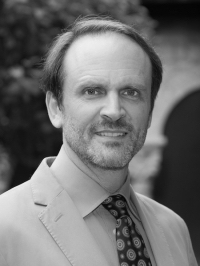 Beauty in the Christian life: the Experience of Forgiveness
Peter Bouteneff teaches courses in ancient and modern theology, spirituality, and the arts, at St Vladimir's Orthodox Seminary, where he is Professor of Systematic Theology. After taking a degree in music in 1983 he lived and worked in Japan, and traveled widely in Asia and Greece. He has an M.Div. from St Vladimir's Seminary and a doctorate from Oxford University, where he studied under Kallistos Ware​. He has worked for many years in theological dialogue, notably as Executive Secretary for Faith and Order at the World Council of Churches, and has written extensively on Orthodox relations with other churches. He has broad interests in theology ancient and modern, but as a great fan of music and cinema, and as a practicing musician, he is also committed to exploring the connections between theology and culture.
He conceived of and edits the widely popular "Foundations" series for SVS Press.
Prof. Bouteneff directs the Arvo Pärt Project at St. Vladimir's Seminary, an in-depth endeavor involving concerts, lectures, and publications, and is author of Arvo Pärt: Out of Silence.
His most recent book is How to Be a Sinner, which offers compassionate reflections on the benefits (and the pitfalls) of understanding ourselves as "sinners."
---
Drawing primarily on the writings of the French philosopher/mystic Simone Weil, but also on Hans Urs von Balthasar (with reference also to the music of Arvo Pärt), this paper will consist in a series of reflections on the relationship between beauty, affliction, sin, repentance, and forgiveness.