ANDREI OF CLUJ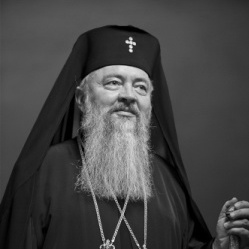 Andrei, Archbishop of Vad, Feleac and Cluj and Metropolitan of Cluj, Maramures and Salaj, authored dozens of books and monographs and over a hundred articles in international journals. He has also edited about ten volumes of international conferences on theology and directs three series at the editions "Reîntregirea" (Spiritual Sources, Logos and Symbol, and Missionary Pastoral - Pastoral Missiology).
He is one of the founders of the University "1st December 1918" in Alba Iulia, where he holds the chair of Orthodox morals and spirituality, a discipline that he also teaches at the University "Babeş-Bolyai" in Cluj-Napoca.
He founded and presides over several research centres in theology: the Institute for Research in Pedagogy and Pastoral Psychotherapy of the Orthodox University "1st December 1918", the Study Centre "Saint-Serge" Paris-Alba Iulia and the Centre for Interreligious and Psycho-pedagogical Christian Studies in Alba Iulia.
In 2002 the President of Romania conferred on him the order of "Grand Officer of Merit"; since 2007 he has been a member of the Academy of Sciences and Arts in Salzburg (Austria). In 2012 he received an honorary degree from the Technical University of Cluj-Napoca.
He is a member of the Permanent Synod of the Romanian Orthodox Church, the deliberative and executive organ of the Romanian Orthodox Church.