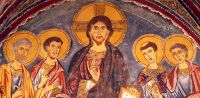 Moses the Ethiopian (ca. 332-407) monk
Moses the Ethiopian, a monk of the desert of Scetis, is commemorated today in the Roman Martyrology and in Byzantine synaxaria.
Moses was born in Ethiopia around the year 332, and according to Palladius' account he was dark-skinned, tall, and robust. A series of adventures and mishaps led him to monastic life.